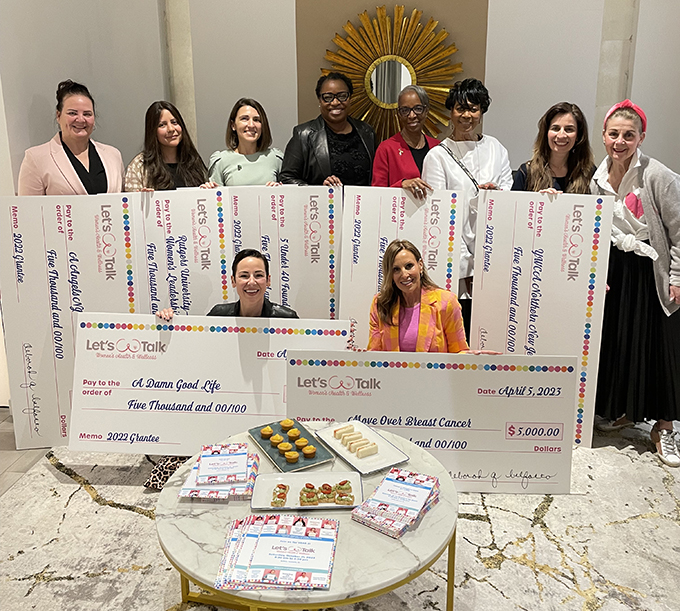 Today was a full-circle moment for us.
When we first dreamt up Let's Talk: Women's Health & Wellness, numerous organizations with a shared passion for women's health and wellness stepped forward and joined us in our quest to create a one-of-a-kind event.
We had the honor of "giving back" $40,000 to some incredible nonprofit organizations that work to make an impact throughout our community each and every day.
Congratulations to the following 2022 Let's Talk: Women's Health & Wellness grant recipients:
Angelina's Angels NJ
Our mission is to serve and provide resources to underserved and underinsured individuals and families. We are committed to educating and navigating you through preventive care, pre and post cancer diagnoses, and all aspects of breast health.
A Damn Good Life
Founded by three young breast cancer survivors, A Damn Good Life fills a gap in the treatment support structure for young breast cancer patients. As two of our founders were going through their respective treatment, they became aware they would not be able to carry their own children after having gone through the IVF process. As heartbreaking as that news was, even more shocking was the price tag to obtain a surrogate to carry their precious embryos. The surrogacy process costs $150,000, or more, and is not covered by insurance. Our founders believe surrogacy should not be reserved for the patients who can afford it. A Damn Good Life will provide a future family with access to the surrogacy journey, top to bottom, from day one.
5 Under 40 Foundation
We unite women under 40 at different stages of detection, treatment, and survival. Our goal is to provide access to the vital tools and resources necessary for early detection, diagnosis, and treatment of breast cancer. We are committed to support women under the age of forty through every stage of this disease by empowering lives, helping preserve beauty and vitality, fostering hope, and strengthening survivorship.
Move Over Breast Cancer
We provide safe, compassionate, non-clinical breast cancer support services and essential programs directly to your home in our exceptionally designed walk-in Mobile Resource Lounge & Salon. The MOBC experience brings the light of hope to individuals facing breast cancer.
Big Brothers Big Sisters of Essex, Hudson & Union Counties
At Big Brothers Big Sisters of Essex, Hudson & Union Counties, we work with volunteers, parents and families to create one-to-one mentoring relationships that defend, inspire and empower the potential that lives within every kid. We are ready to build the biggest possible future, together. We believe every child is born with incredible potential, and we are committed to continuously evaluating and improving our programs to ensure our Bigs are equipped to defend that potential.
YWCA Northern New Jersey
We're dedicated to eliminating racism, promoting racial understanding, and advancing gender equity. YWCA is the oldest and largest multicultural women's organization in the world. For over a century, YWCA Northern New Jersey has been on the forefront of the fight against gender and racial discrimination. We work to build more just and inclusive communities through programs for women and girls, anti-racism training, and policy advocacy. We operate healingSPACE, Bergen County's only Sexual Violence Resource Center. We also are one of the area's largest providers of child care services and senior wellness programs.
Rutgers University – Newark BOLD Women's Leadership Network
The BOLD Women's Leadership Network is a pioneering program cultivating courageous leadership in young women during the college years and beyond. BOLD focuses on facilitating opportunities for women's career development and networking through scholarship funding, programming, and post-graduation fellowships. Ultimately, the program will empower young college women to become leaders in their life and careers after college.
Sister2Sister
Sister2Sister, Inc. provides sanctuary, support, education, advocacy and administers breast cancer related programs for minority and underserved breast cancer survivors. Sister2Sister has provided years of breast health advocacy, education, and survivor support to the Central New Jersey Community. Because underserved women have the highest breast cancer mortality rate, the organization's mission is to alert communities, families, and the media to the devastation breast cancer causes in the underserved community. S2S has provided years of breast health advocacy, education, and survivor-support to the Central New Jersey Community.